Pineapple Express Strain
A Taste of Tropical Bliss in Delta-King's Disposable Vapes and Edibles. Delight in the exhilarating blend of tropical flavors and potent THC with Delta-King's Pineapple Express Strain Sativa strain products. Perfectly capturing the lively and invigorating spirit of the sativa dominant Pineapple Express, these products promise a memorable experience.
Pineapple Train Sativa - Disposable Vapes
Delta-King's Pineapple Express disposable vapes are a top choice for those seeking a dynamic, enjoyable, and no-fuss vaping experience. Pre-filled with high-quality Pineapple Express strain, each vape delivers the crisp, sweet, and tropical notes of this well-loved strain. The Sativa-dominant nature of Pineapple Express ensures an uplifting and energetic high, making these vapes an excellent companion for daytime use.
Whether you're a seasoned vaper or a novice, you'll appreciate the convenience of Delta-King's Pineapple Express disposable vapes. They are compact, ready to use, and require no maintenance or refilling, enabling you to enjoy the vibrant flavors and potent effects of Pineapple Express whenever and wherever you like.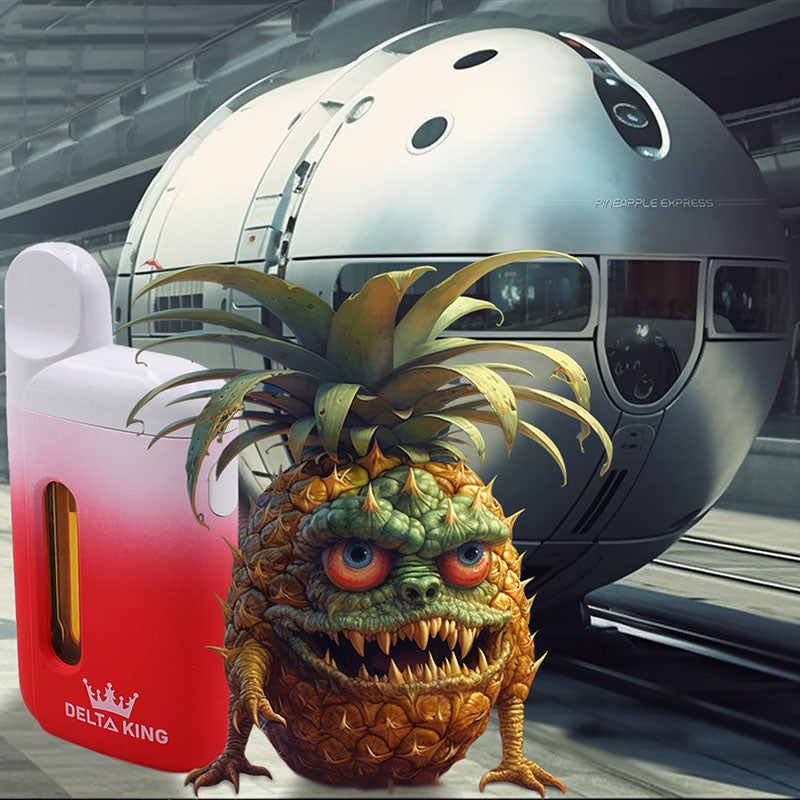 Sativa Dominant Pineapple Express Edibles
For those who prefer a more subtle and delicious way to enjoy their THC, Delta-King also offers Pineapple Express Sativa edibles, such as delta 8 gummies. These mouthwatering gummies carry the characteristic tropical flavor of Pineapple Express, making each bite a gustatory delight.
Aside from their tantalizing taste, these edibles offer the same energizing and inspiring high as their vape counterpart. As they pass through your digestive system, the effects come on gradually, providing a steady, prolonged, and more body-oriented high. This makes them perfect for users who want to stay productive and uplifted throughout the day.
Each THC gummy is carefully dosed with the exact amount of THC, ensuring a consistent and controlled experience every time. Enjoy them at your own pace and savor the unique blend of potency and flavor that Delta-King's Pineapple Express Sativa strain products bring.