Delta-King HHC Edibles - A Whole New World of Delicious Delight
Craving a sweet tooth fix and the uplifting effects of HHC? Look no further! Delta-King brings you an exciting range of HHC gummies that blend mouthwatering flavors with the powerful impact of this fascinating cannabinoid.
The World of Hexahydrocannabinol
HHC, or Hexahydrocannabinol, is a minor cannabinoid derived from hemp or cannabis plants. It's structurally similar to other cannabinoids, such as THC (tetrahydrocannabinol) and CBD (cannabidiol), but it differs in terms of its origin and effects.
HHC is created through a process called hydrogenation, in which hydrogen molecules are added to THC. This process was first carried out in the 1940s by an American chemist named Roger Adams, leading to the creation of HHC.
Like other cannabinoids, HHC interacts with the body's endocannabinoid system. The effects of HHC are not yet fully understood, as research into this compound is still relatively new and ongoing. However, early reports suggest that it may have similar effects to other cannabinoids, such as promoting relaxation, enhancing appetite, improving sleep quality, and alleviating pain.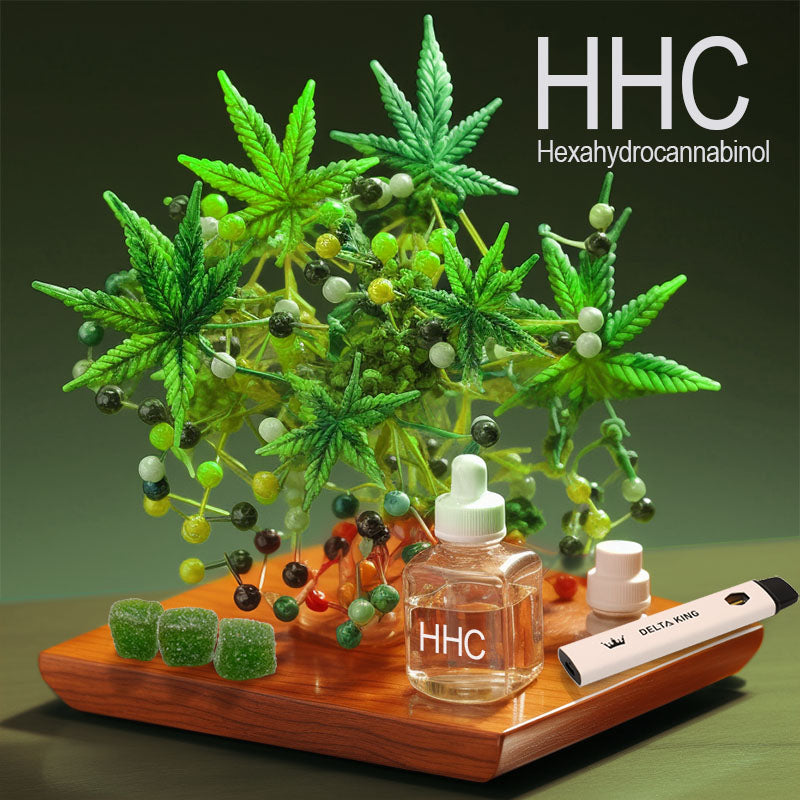 HHC: A Legacy from the Past, for the Future
Even though the hemp industry has recently cast the spotlight on HHC, it is far from a new discovery. HHC dates back to the 1940s, when American chemist Roger Adams first created it through a process called hydrogenation. Back then, HHC was synthesized from conventional THC, but nowadays, it is derived from federally legalized hemp.
Thanks to Adams, we now boast an impressive array of Delta-King HHC gummies, along with HHC vapes and other edible delights. Whatever form of HHC you prefer, Delta-King has got you covered!
Delta-King's HHC Gummies: A Taste Sensation
Our HHC gummies are meticulously crafted, epitomizing top-tier quality and unrivaled flavor. These gummies are derived from extracts of various esteemed marijuana strains, including the HHC Indica and HHC Sativa. We offer them in two convenient jar sizes: 20ea and 40ea. To further tantalize your taste buds, we've incorporated iconic cannabis flavors like Grand Daddy Purple, Pineapple Express, and Sour Diesel. With such a diverse range, we ensure a product tailored to satisfy every individual's palate and preference.
Try our handcrafted HHC Pro gummy range, available in a multitude of flavors and cannabis strains. If you're after a stronger kick, our Sour Diesel HHC Edibles, with 100mg of Sativa Cannabis Strain per gummy will definitely provide the relaxing sensation you're looking for.
The Safety of Our HHC Infused Gummies
Rest assured, safety and quality are never compromised at Delta-King. All our HHC edibles are rigorously tested to ensure only the purest, safest, and most effective products reach your hands. Lab Reports are openly available on our website.
Our gummies are crafted from all-American, non-GMO hemp, promising high-quality, potent, and delectable HHC edibles every time.
Comparing HHC to Other Cannabinoid Gummies
HHC offers a euphoria that lands somewhere between delta 8 and delta 9, giving you the perfect level of buzz. Beyond its moderately potent high, HHC edibles also offers benefits such as pain relief, anxiety reduction, relaxation promotion, appetite enhancement, and improved sleep quality.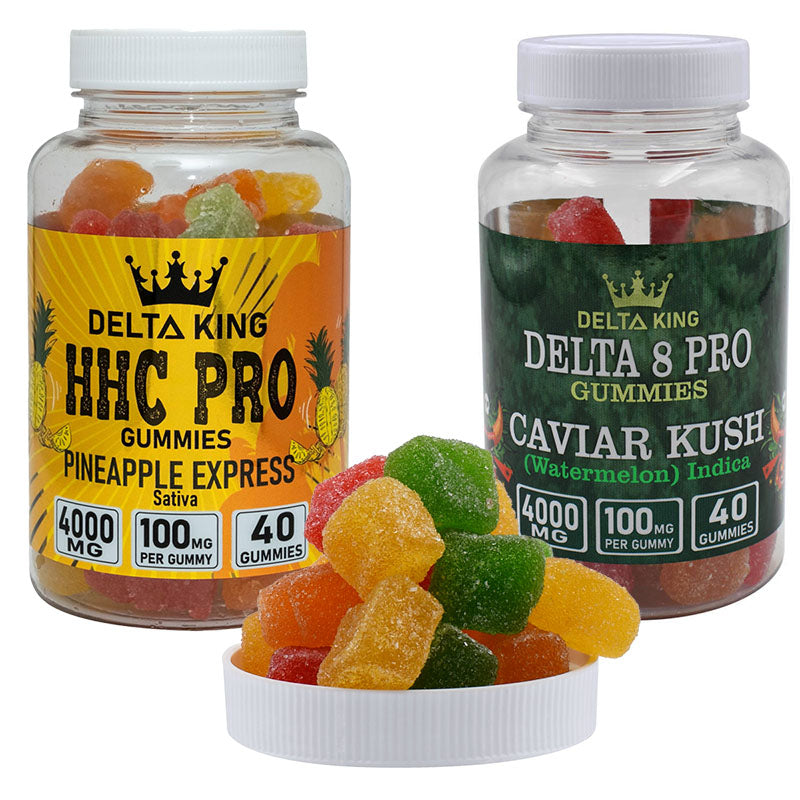 HHC vs Delta 8 Gummies
HHC edibles is more potent than delta 8 gummies, estimated to be about 70-80% as strong as delta 9, whereas delta 8 is considered half as potent as delta 9. Despite the higher potency of HHC infused gummies, they rarely induce side effects such as paranoia or anxiety. Delta 8, on the other hand, offers pain relief, relaxation, appetite stimulation, and a mild to moderate high.
HHC vs CBD Gummies
While CBD offers several physical wellness benefits, such as stress and anxiety relief, pain management, and improved sleep, it does not induce the psychoactive effect associated with HHC. This means that while CBD gummies are great for wellness, HHC edibles take you on a euphoric journey.
HHC vs Delta 10 Gummies
Delta 10 gummies are milder than HHC infused gummies, which makes them an excellent choice for beginners. However, both offer a lower risk of anxiety and paranoia side effects. Despite the mild potency of delta 10, it offers pain relief, mood boosts, energy, focus, and a mild buzz.